More Morrissey + Emile
Addendum to the David Morrissey entry...
Morrissey starred in this show "Blackpool," infamous here in the States for being the inspiration for an extremely poor-received American version called "Viva Laughlin," a flop on the level of "Cop Rock." Well, I don't know if it was extremely terrible. I was just pissed off that the 11th season of The Amazing Race was delayed. And Hugh Jackman was involved somehow, and I hate Hugh Jackman.
Anyway, as I was surfing the 'Tube for Morrissey-related stuff, I came across all these clips from "Blackpool." The show can only be described as musical, but a goofy Mamma Mia! type of musical. Check out this clip in which the cast members sing along with The Communards' "Don't Leave Me This Way."
And here's an even goofier one--"Crazy Little Thing Called Love" from Queen. (Appropriate since Morrissey's from Liverpool, and that guy I mentioned in my previous entry, the one I'm standing next to in the newspaper clipping, his favorite band was Queen. He's also the Highlander fan.)
Darn it, this series is not on DVD, at least not Region 1 DVD rentable on Netflix.
#2--Emile Hirsch
I said in the past that Mr. Hirsch has the goods to become a big star. Of course, when he does, I'll proudly wave my copy of "The Girl Next Door" and say "I told you so." And let's just forget that The Mudge Boy ever happened.
Ever since my James McAvoy entry, I've been waiting to post this picture:
Some magazine (Vanity Fair?) had a photo feature a few months that consisted of recreations of famous Hitchcockian scenes. Without further ado, here is the piece de resistance: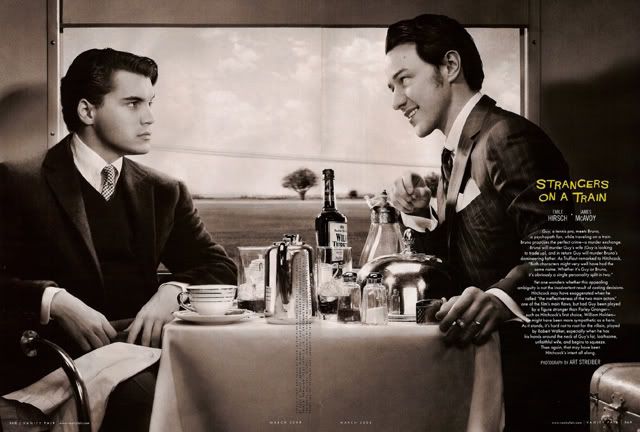 McAvoy and Hirsch...together...on a train. *faint* Wait, wait, here's another in color:
*pant, pant, pant*
Oh, yeah, Emile's in Ang Lee's upcoming film, something called Taking Woodstock. Last week in EW's Photo Issue, there was a picture taken at 4:20--hee hee, get it? Woodstock? Hippies? 4:20?--of an exuberant Emile, arms in the air. There's mud, too, cause it's Woodstock. In the movie, he's reunited with Paul Dano, his co-star in The Girl Next Door.
Of course, there's Milk, too, but I can't say I'm digging that awful wig. Maybe he can score an Oscar nomination since he was ROBBED last year. (After rewatching Atonement, I think McAvoy was shortchanged as well.)